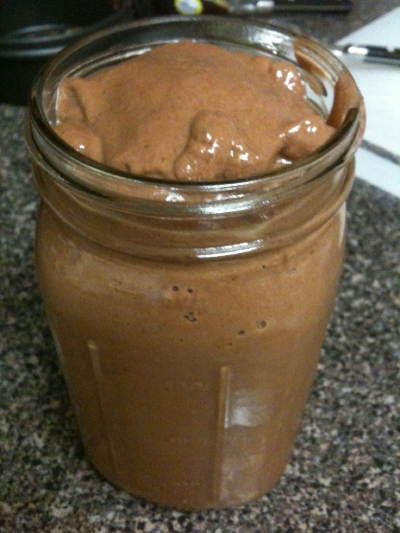 One of my New Year's Resolutions (besides getting serious again about my weight loss routine) was to stop wasting food or, at the very least, pay better attention to the food we already have in the house rather than buying more.
So, this morning I had a hankering for something a little different than the turkey bagel I had planned. I decided to open the fridge and see what needed to be used. This ended up in a smoothie, and lucky for you, I am posting the recipe and nutrition info here!
Rich, Thick Chocolate Smoothie Recipe
1 container of Jello Sugar-free chocolate pudding snack
lots of ice
1/2c UNSWEETENED vanilla Almond Breeze Almond milk
1 cup Dannon Light and Fit Vanilla Yogurt
2 tbs Simple Truth Organic Peanut Butter
Blend well! This is a pretty thick smoothie depending on how much ice you use.
Here's the deal, this is DELICIOUS and DECADENT. YES, it's pricey as far as calories and fat grams (because of the peanut butter) but it's well worth it if you are jonesing for something chocolate. You can reduce the calories by reducing the peanut butter. Another thing I'd like to mention is that this is a pretty large smoothie. I'm a large person so I tend to have big breakfasts, you could EASILY cut this smoothie in 1/2 and still have a pretty good-sized smoothie!
Let me know what you think!!
Jello – 60 calories/1.5 fat/13 carbs/2 protein/0 fiber
Almond Milk – 20 calories/1.75 fat/1 carb/0.5 protein/0.5 fiber
Yogurt – 110 calories/0 fat/ 20g carbs/ 7g protein/ 0 fiber
Peanut Butter – 200 calories/ 16g fat/ 6 carbs/ 8g protein/ 2g fiber
Total Nurtrion=
390 calories
19.25 fat
40 carbs
17.5 protein
2.5 fiber
If you are on Weight Watchers, the recipe above is 11 points so Im sure you will be inclined to cut this in half to safe your points. A person like me who is on max points doesn't have to worry as much about only having 15 or 18 points a day to use (I have almost 40!)