I don't know too many fatties like myself who reallllly look forward to exercise.  At least not at first.
Part of my new take on fitness is the acceptance that without moving my body, I might lose weight but won't be at the same level of health as I would if I would just get my ass on the treadmill every now and then.
I have bad knees so a treadmill and exercise bike seemed like a good option to start with. I looked around for a treadmill since I already had a bike and had a hard time finding one that would support my weight that wasn't outrageously expensive. I found a great deal on the classified ads at my job and promplty brought this baby home: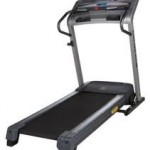 This is a Gold's Gym Trainer 480. They generally cost about $400 at Wal-Mart but I picked mine up used for less than $100. The gentleman I bought her from had only used it twice so it's practically brand new.
This particular machine is rated up to 300 pounds but even at 330, I was walking on it with no problem. I am now under 300 pounds and she's still just fine.
There are lots of routines on this machine, a handy water bottle holder, a safety harness, and slots to put your iPod, ereader, or whatever.
I started out walking only about 8-10 minutes and am now walking a mile or two with workouts that are anywhere from 30 – 45 minutes. It's a nice thing to slap a pair of headphones on and kinda disappear into the musical netherworld. Nice because I'm one of those people whose phone never stops ringing or emails never stop beeping and booping and this is the one time a day where my focus is on ME and nobody can bother me.
It's still hard to make myself exercise but once I'm about 2 minutes into my walking routine, the endorphines start to kick in and I find myself pretty darn happy to be moving.