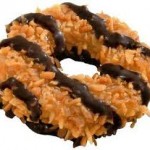 It's that time of year again!
Be prepared for throngs of Girl Scouts and their parents to besiege you at work, at church and even the entryway at Wal-Mart with promises of cookie goodness for only $4 a box! (Or are they more now? Seems like every time I buy a box, they've gone up in price!)
So I wanted to talk a little about Girl Scout cookies. They are a pitfall, people! Stay away! If you are like me, you might treat the appearance of the Girl Scout cookie as the Holy appearance of Jesus himself. One of those magical things that only happens once a year like Christmas that is treated as a "goal" or a "contest". My mindset tells me that if they are available "for a limited time only" that it is a contest to see how many I can eat before they disappear again for another year. I think we can all see the danger in that.
This year, I have made a promise to myself that I will not buy ANY cookies. This mostly came after I checked the nutritional content on several kinds of the cookies and found that these cookies are PACKED with calories, fat and even sodium.
For example, did you know that ONE Samoa packs 75 calories? ONE, people! And who ever heard of only eating ONE Samoa?
The moral of the story is that Girl Scout cookies are a terrible choice for a snack or dessert if your are moving toward a healthy lifestyle. Even the flavor with the least amount of calories (a cardboard-y lemon concoction) still have 100 calories per pack and virtually no nutritional content.
I'm doing the cookie-challenge during this time. The challenge to stay FAR away from Girl Scout cookies. Will you join me?