About 4 years ago, I had privilege to be part of a conference that required about a year's worth of planning and several sleepless nights. I had to fly to Chicago to work the registration for the conference and it ended up being a stressful, soul-draining, sleepless event. On the way home, I stopped in an airport bathroom and snapped a self-portrait of me looking especially haggard and worn out.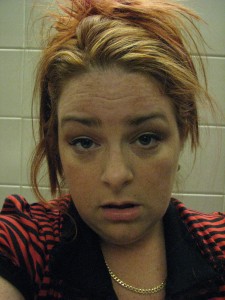 I'll spare you readers and myself a current shot but suffice it to say, the last few months have felt much like this photo at moments. I got through the school semester with straight A's in all of my classes. In case you missed it, I went back to school to work on my Master's degree in August. I am one semester down and have 2 more to go but I am waiting until next Fall to go back. Too much of everything going on to consider going back any sooner.
I learned a valuable lesson about myself during school, and it's a lesson I've learned 100 times before and could see it coming a mile away. That lesson is: I suck at balancing a schedule. The second part of that lesson is that I REALLY suck at making time for my own needs on a schedule. This is why I've been so absent. This is why Tokenfatgirl has been quiet. I've been eating like a rabid gorilla and haven't been to the gym in I don't know when. This isn't a pity part or even a confessional but I wanted y'all to know.
I let myself get really overwhelmed with school, work, and family and that meant that the first thing to be cut from my schedule was making time for healthy food and workout routines. I catch myself wanting to write a sentence about how it doesn't take any time to make a good choice at a drive-thru but the bigger part of me knows that, for me and me only, I need to devote time to planning meals and workouts in order to feel invested enough to make the split second decision at the drive-thru. Maybe this is flawed thinking but I know myself.
This weekend has been the first weekend that I haven't had to do shit for anyone but myself. I have lounged in bed all weekend and rested and it is an amazing feeling. Today has been full of thoughts about how to get back on track and the changes I need to make immediately.
I need to think in the very, VERY short term right now because I feel like I'm starting fresh. Tonight before I go to bed, I will do the following things:
* pack my gym back and take it to the truck
* pack a lunch for work tomorrow
* fill my water containers
* plan a dinner for tomorrow night
Time to get real. Again.