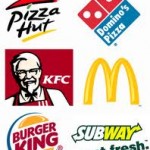 Ok, sometimes you don't have time or are too tired to grill!
I know, I know. It's not always about Subway, but you have to admit that "Jarrod" guy looks pretty good and seems to be maintaining his Subway-inspired weight loss even years later.
I was lamenting the woes of terrible fast food in my last post and decided to follow up with a good homemade list of places to go when you're exhausted or out of things at home. This list isn't meant to be all-encompassing but you'll get a good idea of what's out there.
Subway  - You really can eat fresh! Subway has several good choices for sandwiches and wraps and even offers baked chips and sometimes fruit in the store. Leave off the mayo and cheese and you'll still have a yummy sandwich!
Panera Bread – This is one of my very favorite places to eat. You can get a 1/2 sandwich deal at lunch that includes a soup and a piece of fruit (usually an apple) and all calorie contents are listed right there on the menu!
Einstein Brothers Bagels – Super yummy and wonderful selection! Plus they have really good hummus!
Jason's Deli – Pretty much any kind of sandwich you can imagine and very good iced tea (unsweet, of course!).
Unfortunately, my personal list of "go to's" is pretty short as you can see. I just couldn't bring myself to mention McDonald's and how awesome their grilled chicken sandwich is because most of the rest of their menu is loaded with salt and calories.
I have successfully avoided the drive-through several times by keeping snacks in my truck. It's nature's fast food!
Things like bananas, apples, individual packages of nuts, Larabars, Special K bars, and bottled water will go a long way to keeping you out of the greasy drive-through and save you a ton of money.
The next time you go out, slip a bottle of water and a Larabar in your glove box!