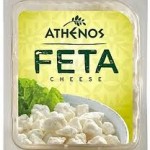 I LOVE cheese. Serious love. The kind of love that some think shouldn't be spoken about by a girl who weighs 325 pounds.
Still, a girl's gotta have her cheese so I have been trying to cut back on cheese that doesn't pack a lot of flavor for a small amount of calories.
If you are feeling nommy for some cheese, I recommend feta cheese as an alternative to heaping mounds of cheddar or Velveeta. One of my favorites is Athenos Basil and Tomato Feta Cheese crumbles. For 1/4 cup, there are only 90 calories, 2 carbs and 0 sugars. It is a little high in sodium but you get 7g of protein!
1/4 cup of feta cheese is plenty of crumbles to dribble across a large salad, in a wrap or over a casserole and it packs a HUGE amount of cheesy flavor.
Feta cheese is GREAT in salads, omelets, wraps, soups, casseroles and even as a snack. Athenos has several flavor varieties but your local grocery store will also have several other brands available.