I've been looking for an elliptical for a long time but always talked myself out of it at the last minute due to the cost. Well, readers, I am happy to announce that I finally got my elliptical!
It's a Nordictrack ACT and looks like this: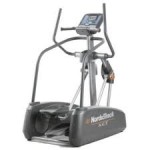 A friend of mine at work had this in his garage and had stopped using it a while back. He knew I was looking for one so he offered to sell me his for only $100! Yes, folks, a Nordictrack elliptical for only ONE HUNDRED DOLLARS!
WOO HOO!
I have to say, I've only worked out on it one time and it is NO JOKE. I was sweating within the first minute! I'll let you all know how my workout tonight goes and if my legs have given out yet or not