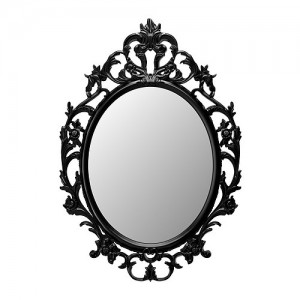 I am not ugly. I am not ugly. I am not ugly. I am not ugly.
I rarely have days where I need to tell myself that because most of the time, my ego is quite healthy. I'll look in the mirror and be all "Yeah, girl, you are doing alright today!" or "Damn, lookit those curves!". Maybe 2 or 3 times in an entire year, I'll have a bad day and wake up and feel shitty and look in the mirror and think, "Damn girl, you need to try some new makeup or do something about those eyebrows". Rarely do I ever feel ugly or ashamed of my body. I seriously can't remember the last time that happened.
Nope, most of my negative thoughts are about my face and they generally come when I have been ignoring my haircut schedule, letting my gray roots shine through, and forgetting my skin care routine. And then I look tired and that's when the negative self talk starts.
So, time for some positive self-talk:
Do this yourself if you need a reminder!
I'm hot! I have nice hair, nice lips, nice eyebrows, and a banging curvy body.
I'm smart! I can speak intelligently about current events and articulate my thoughts coherently.
I'm funny as fuck!
I'm a good friend!
I'm a great lover!
I've accomplished a lot in my 36 years.
There. Now I have a mini-list of good things about me that I can refer to the next time I'm feeling shitty. And you know what? It felt good to write it!
Getting healthy is sometimes about making sure your self-esteem remains healthy. PREACH!