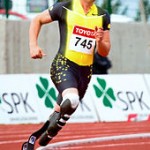 If you've been following me, you know I've been struggling lately with motivation and being stalled in my diet plan for months and months. I am still having a REALLY hard time getting back on plan and getting motivated to work out. I want this. I really want this. Still, I catch myself in the excuse cycle and letting my "Don't Wanna's" get the best of me.
I was watching the Olympics over the last few weeks late at night in bed and sometimes on the live feed on the internet. Gymnastics has always been my favorite, followed by diving, and anything else that has any element of artistry to it. I never watch running. Never. That is, until I as flipping through my recordings and spied Oscar Pistorius.
If you have been living in a tube the last few weeks and don't know who Oscar Pistorius is, he is an amazing robo-legged runner who has basically exploded my personal ideas on ability.
Oscar Pistorius is known as "Blade Runner" because he is a double below-the-knee amputee. As in, he's got no legs, Lieutenant Dan.
He runs on those metal scoop things that are kinda curved at the ends that mildly resemble feet. So, he's basically a bionic man with an amazing running ability.
I watched several events in which he ran. I watched him outrun people with 2 full legs.
Like, I had a serious epiphany about my uncanny ability to say "I can't" while this man with 2 missing limbs does. And does WELL. And does IN THE FREAKIN' OLYMPICS.
I plan to get a photo of Oscar Pistorius and laminate it to put on my treadmill as I'm walking. When I feel my knees hurting and start that internal whining, I'll take a second to look at that photo and remind myself of all this man has accomplished with his scoop legs while I sit and bitch about my real legs.
If that isn't motivating, I'm doomed!