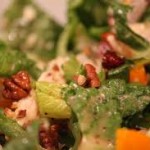 I love a good salad and this week I am really trying to get my food program back on track. I decided I am going to try to get back to eating salads for dinner a couple of nights a week to help cut back on carbs but also to help get my vegetable servings for the day.
Salads can be really boring. Especially if you are eating the same lettuce/tomato combo with ranch dressing. I am going to be trying to do homemade salad dressings and also adding new veggies to my salad mix over the next few weeks.
Until then, here is a recipe for one of my favorite salads:
Spinach, Romaine, Arugula for greens
Chopped purple onion
Shaved purple cabbage
Sprinkle of garlic-flavored feta cheese (you won't need a lot because feta has a ton of flavor)
Shaved carrot
Chopped celery
Sprinkle of crisped canadian bacon or turkey bacon (not a lot or you'll have a lot of calories!)
Sprinkle of oven-toasted chopped walnuts
You can add grilled chicken or fish to this salad if you are wanting more protein.
Finish this off with a raspberry vinaigrette or sweet vidalia onion dressing and it is a WONDERFUL salad.
The way the salad is made above with very close attention to portions on the nuts and turkey bacon, the entire thing has less than 7 Weight Watchers points and is packed with flavor.
I will probably try to do this salad as well as a basic chef-style salad later this weekend. Will definitely hold back on the cheese because I tend to load up on cheese which kills my salad calorie and fat-wise.
Onward healthy soldiers!