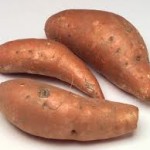 This is what I had for breakfast this morning and it was amazing! I stayed full until lunch and it tasted very much like a liquid pumpkin pie. Only 5 Weight Watchers points and a lot of fiber!
This makes a very nice sized smoothie for only 335 calories and 11 grams of fiber! A GREAT source of vitamins and dairy!
Combine:
ice
1 medium banana
1/2 cooked mashed sweet potato
1/2c Dannon Lite and Fit yogurt
1/4c sugar free almond milk
splash vanilla
splash sugar free Hazelnut Coffeemate
splash of cinammon
Blend using a hand stick blender or your favorite smoothie machine. This is a very thick smoothie and is amazingly good!