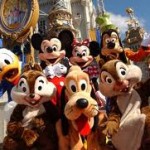 I have several vacations planned over the next couple of years but, as many of us know, vacationing as a fat person is a very different experience for some of us.
My girlfriend, Jennifer, and I are planning a blowout trip to DisneyWorld in Florida. That will be happening some time in 2013 but most likely will be in the fall around the end of September. My goal is to have lost enough weight by then to comfortably fit on the rides. At the weight and size that I am, I will unfortunately not be able to ride many of the rides at Disneyworld. I estimate that I need to lose about 100 pounds to be comfortable in some of the rides.
I stopped going to amusement parks with any hope of being able to ride the rides about 12 years ago. My last trip was in 2000 to Six Flags over Texas. I was barely small enough to fit on one of the roller coasters but watched in dismay as a woman about my same size couldn't fit in the ride and had to get off in front of everyone. She was mortified and red in the face and I felt really bad for her. At the time I remember thinking, "I hope that never happens to me."
Here's the thing with body shame: Even if you get to the point where you love your body and work really hard to dismantle your negative self-talk, remembering moments like that at Six Flags can still be really jarring and harmful to your psyche.
I want to go to Disneyland and ride the rides! I want to be able to go on a cruise and not be afraid of the tiny bathrooms and how I will wipe my ass properly! I want to be able to ride on an airplane and not use a seatbelt extender.
Part of me rages against that because I don't want to make my body smaller to fit the world's few of what I should look like. Part of me says, "No world, you need to make those seats a little bigger". Until that happens, I'm on my journey and looking forward to those spinning teacups.