2013-01-19 06:25:24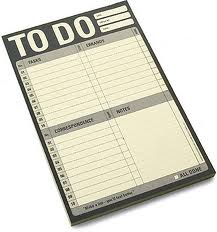 I hate the word "dieter" but I used it here so we can all be on the same page. I also sometimes hate the whole "I'm not dieting, I'm making a lifestyle change!" but I guess until I come up with better weight-loss catchphrases, I should just shut the hell up.
I was thinking earlier that if I'm going to get serious, I need to make a serious to-do list to help me get jump started. I'm apprehensive about this list because some of this is serious shit. EEK! I'm hoping I will get up in the morning and actually do some of these things:
1. Weigh, (I just weighed a week ago and made a commitment to only weigh every 2 weeks so it's not time for me to weigh yet but YOU should weigh if you are going to get serious).
2. Make a plan for how often you want to weigh and then mark the calendar
3. Take measurements. A LOT of measurements. Check them once a month, no more.
4. Take a "before picture" or video. If you stick with your plan, you can keep taking photos along the way and see your own progress.
5. Join "myfitnesspal.com" or Weightwatchersonline or another site where you can track your progress. Or better yet, start a blog so you can do that AND the whole stream-of-conciousness thinking that needs to come with a serious change
I can't think of anything else right now but I'll add to it later if I think of it.
Posted in:
FAT LIFE
Motivation
Weekly Weigh-In
Read more...
2 comments
---
2013-01-13 04:24:58
Motivation
Weekly Weigh-In
Read more...
0 comments
---
2012-07-04 18:58:48
Health
Motivation
Weekly Weigh-In
Read more...
1 comment
---