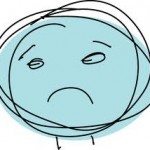 I woke up this morning super prepared to be crappy and dumpy all day. I have the weight loss blues!  And dang it, it's all my fault!
I have not been able to focus this week like I wanted to and have only worked out once. That makes TWO workouts in the last 2 weeks and that is REALLY not working for me! I'm hormonal and hungry and now I'm stiff from not having gone to the gym!
WAAAAAAAAHHHHHHHHHHH!!
Now, I've had my little pity party this morning and came in to work to discover that my coworkers are intent on making me laugh today! It's working. Here I was all prepared to feel sorry for myself and they are having none of it! "Let's go to lunch!", they said. And you know what? I will. And I will make a good choice! Something healthy.
And after I eat, I will remember that people love me and are rooting for me and that I need to be my champion today.
No matter what my weigh-in says on Sunday, I will know what I could have done differently this week. I should have worked out more. I should have held a tighter reighn on my food. I should have stayed positive and stopped feeling sorry for myself for being stressed out. I need to let go of control of a few things in my personl life and at work – because I can't make everything perfect. No matter how bad I want to.
Plans for this weekend:
Get on the treadmill at home for at least an hour. (Total or 20 minutes at a time, either way – I'm doing it!)
Plan meals for next week.
Blog about my favorite workout music.
Make a mix CD for my friend, The Princess, so we can listen to the same music at the gym (cause we're codependant like that!)
Clean the house.
Clean up my brain.
Forgive myself for not doing everything perfect.
Keep blogging. Even the negative parts.
WOOT.