If you have ever tried to find appropriate clothing to work out and you are over a size 14, then this post is for you!
I went on an expedition last month before I joined the gym and tried to find reasonably-priced clothing that would fit my 3x to 4x-sized body. Needless to say, it was ABYSMAL!  I did, however, discover that Walmart.com has a pretty reasonable selection of workout clothing!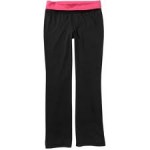 This is an example of one of the great pairs of yoga pants that I found at Walmart.com for less than $14! They actually fit and are exactly the right material to let my ladybits breathe as they should. These are made by Danskin and come in tons of color options.
I did find a few other t-shirts and shorts on Walmart.com and also had luck on Target.com. There were several sites that supposedly cater to plus-size workout wear but I found them to be very expensive.
I also found that you can't just walk into Walmart and actually try on any of these workout clothes because, newsflash, everything above a 2x can only be bought ONLINE. Someone should seriously tell these retailers that large women would buy their shit if they could #1: TRY IT ON and #2 BUY IT IN THE DAMN STORE.
I'll be doing a separate post on sports bras because we all know what kind of special hell that is. Look for it and feel free to add your input!